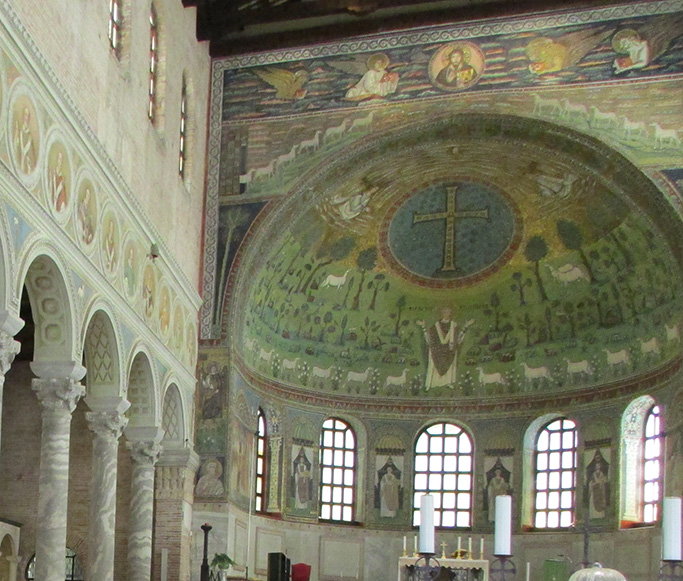 Archdiocese of Ravenna and Cervia
CLASSE (RA) | 2015
The basilica looks like a typical Byzantine-Romanesque construction. The gabled façade was preceded by a quadriporticus of which today only the narthex remains, fully rebuilt, ending in two turrets. The bell tower (10th-11th century), 37 m high, develops in a cylindrical shape punctuated with embrasures, single-lancet windows, and two-three mullioned windows that lighten the mighty walls. The interior of the basilica is divided into three naves; the apse area was elevated in the 9th century for a crypt. Since 1996 the basilica has been included in the list of Italian heritage sites by UNESCO.
Description of the works_ The intervention is a maintenance restoration of a portion of the flooring of the central nave of the basilica, which was in a poor state of preservation. The detachment and lifting phenomenon involved about a width of four/five tile tracks, with a cusp pattern on the elevations in the middle part.
The maintenance intervention was carried out in the following ways:
– thermographic survey with thermocamera model Fluke TiR32: an initial inspection was made before the intervention; once the flooring had been removed, a second thermographic analysis was carried out, in order to measure the distribution of surface temperature of the portion of the floor concerned.
– circumscription of the damaged area, registration and removal of damaged and disjointed elements no longer adhering to the screed;
– removal of the old disjointed, incoherent and fractured screed that is no longer functional as well as the restoration of the background of the sun portions affected by the gaps through the laying of a new reinforced screed;
– integration of the gaps with elements similar to the existing ones in terms of size, shape, mixture characterization and surface finish.